Airbus voted Top 100 Graduate Employer (2018)
Airbus in Australia Pacific Graduate Program
About
The Airbus Australia Pacific (AAP) graduate program offers graduates the opportunity to join a global leader in aeronautics and aerospace. AAP supports more than 500 Airbus Helicopters and is well recognised as a leading Through-Life-Support provider in military fixed wing and helicopter platforms as well as an innovator in the field of defence and space.
Our graduate program is designed to provide you with the opportunity and support to experience different aspects of our engineering functions while you develop your knowledge and skills, technically and professionally. Through structured rotations, ranging from design work to in-service support you will be exposed to a broad range of interesting work and challenging projects while working within a variety of our engineering teams.
Our program is aimed at producing well-rounded knowledgeable engineers that we hope will become industry leaders in the future. Our graduates will have the opportunity to work on two of the most innovative helicopter platforms of the 21st Century. The Multi Role Helicopter (MRH) Taipan is one of the greatest advanced tactical troop transport helicopters of its time and the Armed Reconnaissance Helicopter (ARH) Tiger is faster and more agile than its competitors in reconnaissance warfare. You may also get the opportunity to support our Airbus Defence and Space High Altitude Pseudo-Satellite (HAPS) where we are pioneering Zephyr, the world's leading, solar-electric, stratospheric unmanned aerial vehicle (UAV).
Specifics
Platforms you will have the opportunity to work on: ARH Tiger, MRH Taipan, C-130J, P8, Zephyr.
Rotation period: 3-4 rotations, 6-8 months duration per rotation.
Engineering disciplines we look for: Aeronautical, Aerospace, Aeromechanical, Avionics, Electrical, Mechanical and Structures, Mechatronics, Software, Systems.
Your contribution to the Airbus team: You will contribute to our engineering teams through your integrity, team work, creative approach, customer focus, respect, and resilience .
Program length: 2 year fixed term contract.
Recruitment Process
We value the time and investment you put into your application and will endeavour to provide you with updates along the way. Below is a snapshot of our recruitment process:
We recommend you apply for our graduate program through our careers website and submit your CV.
We will then invite a number of applicants to undertake our gamification challenge in order to progress to video interview stage.
Selected candidates will then move to an assessment centre and personal interview stage where we look forward to meeting you in person and spending some quality time together.
Following this we carry out employment checks prior to offering you your dream role.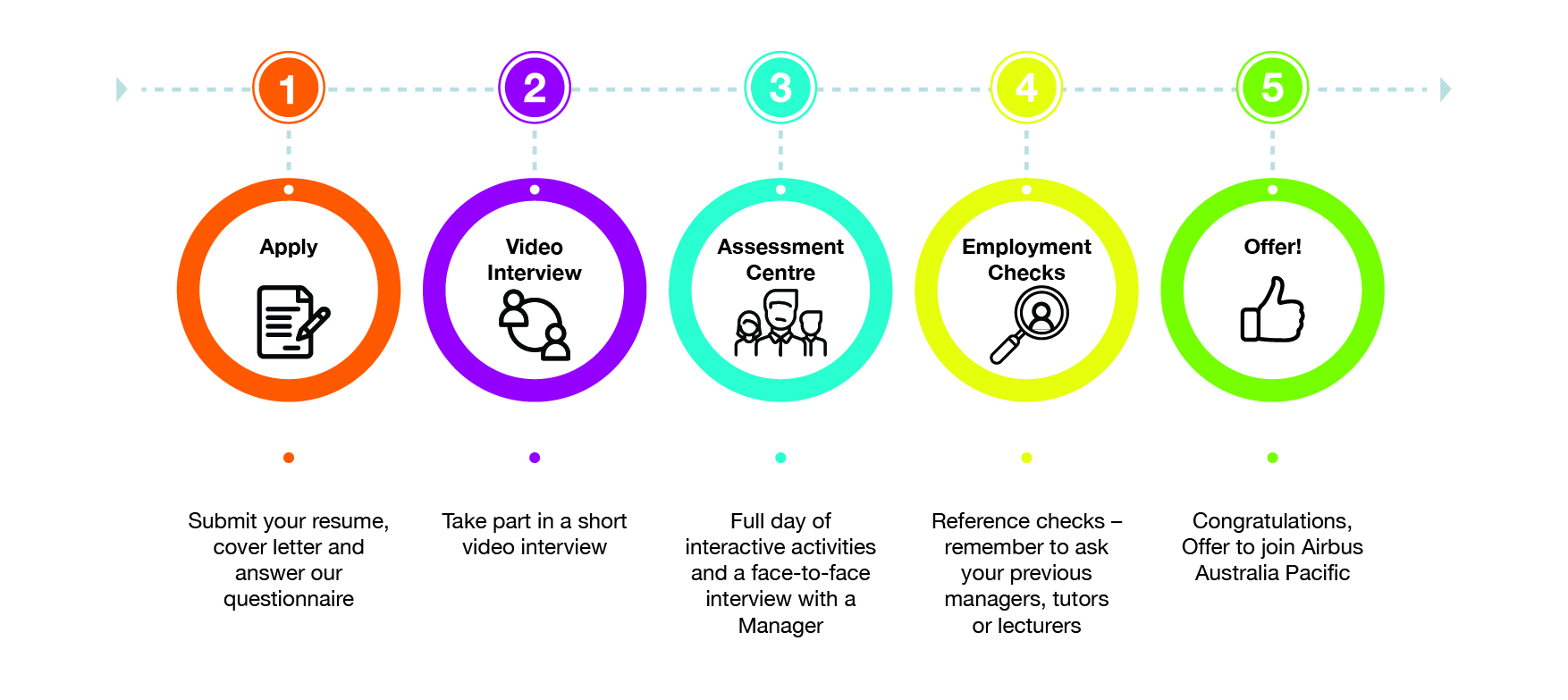 Am I Eligible?
We welcome you to apply for our graduate program should you meet the below criteria.
You need to have completed your undergraduate degree before the program commences (January each year), majoring in one of the following disciplines:

Aeronautical Engineering
Aerospace Engineering (Mechanical and Avionics)
Mechanical Engineering
Electrical Engineering
Software Engineering
Mechatronics Engineering
Systems Engineering

You should ideally have less than one year of professional engineering experience (excluding undergraduate work experience).
Due to the nature of our customers, it is a requirement for you to be an Australian Citizen
You will need to be eligible for an Australian Government Security Clearance and have the capacity to satisfy pre-employment medical screening which may include drug and alcohol testing.
Meet our recent Graduates
Describe a 'day in the life' of a grad at Airbus
A typical day as a graduate will depend on where you're completing your rotation. I am currently working with the Software System Test (SWST) Team. This team works with the customer to scope software builds before writing, reviewing and executing Engineering Test Orders (ETOs), Ground Test Orders (GTOs) and Flight Test Orders (FTOs) for software builds/updates to the aircraft. The SWST Team uses the ARH Software Support Capability (ASSC) and the MRH Software Support Centre (MSSC) as test benches for integration and robustness testing for new released software prior to formal testing. After integration/robustness testing, ETOs are formally run during Rig Formal Qualification Testing (FQT), followed by running GTOs for Ground Test (GT) and temporarily releasing the software, under controlled conditions, for running FTOs for Flight Test (FT).
Within this team, my typical workday is extremely varied. On any given day I might be involved in systems testing in the RIG, working on my individual design project, attending additional training seminars, learning processes/procedures or reading/interpreting technical documentation.
What is the most challenging aspect of your work?
The avionics systems of the ARH Tiger and MRH 90 are complex and differ from one another. As a result, the most challenging aspect of my work is determining a point of contact/document to find the information I need to overcome a 'road-block'. In many cases, I do not know exactly what information I need, and in other cases, that information provides more problems. As a result, there is no such thing as the "simple solution". However, this provides a great opportunity to learn about these parts of the avionics systems in greater depth.
What do you enjoy most about your work?
I love the diversity of my tasks and that I have the opportunity to work with some cool pieces of equipment - such as hands on experience I receive with testing in the rigs.
What work/project are you most proud of to-date?
I am most proud of my digitization project, which I am currently working on. As part of the continuous effort to automate and optimize the formal testing process within the test area and test bench, my project, a feasibility study, involves designing and automating the testing process. Using the automated system will provide more accurate results, improve efficiency and save Airbus time and money.
Can you describe the type of working environment/culture?
The working environment is very friendly. My coworkers are extremely approachable and happy to help with any problems I have faced. There is a lot to learn and, if you are willing and motivated, there are lots of amazing opportunities to learn and build your career upon.
Describe a 'day in the life' of a grad at Airbus?
A typical day as a graduate engineer greatly depends on the projects you are involved in. Currently, I'm involved in two teams; working on both the Manned-Unmanned Teaming (MUM-T) project which is a development project as well as a Software (SW) Systems Test Engineer involved in the integration of pre-released Through Life Software (TLS) for the ARH in the ARH Software Support Capability (ASSC) and integration of pre-released software for the Sustainment contract for the MRH in the MRH Software Support Centre (MSSC).
As a SW Systems Test Engineer my role heavily involves testing of Avionics software through the Verification and Validation (V&V) Lifecycle or V-model for both the ARH and MRH Platform.
Testing the software or pre-released version build for ARH Tiger and MRH90 helicopter's Avionics includes testing and analysis of results against the system requirements to ensure that all the requirements are met prior to Formal Qualification Testing (FQT).
In summary, my everyday role as a SW Systems Test Engineer includes;
Writing of Engineering Test Orders (ETOs),
Execution and witnessing of ETOs on the ARH Australian Integration Rig (AIR) and MRH90 Systems Integration Rig (SIR).
With experience in this role, I will be able to write, review and execut;
Ground Test Orders (GTOs),
Flight Test Orders (FTOs),
Systems Test Report (STR)
What is the most challenging aspect of your work?
For me the most challenging aspect is to understand how each avionics system interacts with each other for both the ARH Tiger and MRH90 platforms. Although the avionics systems on both the platform are very similar, each aircraft has different operational requirements.
What do you enjoy most about your work?
Personally, job satisfaction is the top most motivation for coming to work every day. Each day at Airbus brings different challenges and no day is the same. It's that satisfaction I receive after getting past each challenge that I enjoy the most. Especially knowing that all the hard work I put in is going to have an influence on the capabilities of the Australian Defence Force.
What work/project are you most proud of to-date?
Till date, I'm proud of developing a software program for decoding Key-Length-Value (KLV) metadata transmitted from Australian Army's drone. This task was a challenge as it involved complex programming structure with limited online resources available due to its relation with military equipment.
Can you describe the type of working environment/culture?
Airbus has a great working culture/environment where everyone feels at home. Airbus actively promotes its Diversity and Inclusion policy. All people I've worked with thus far have provided great support and encouragement. Every employee at Airbus is always approachable, happy to help out and ready to share their wealth of knowledge. Working at Airbus also enables me to have a great work-life balance as it provides employees flexibility with working hours.
Describe a 'day in the life...' of a grad at Airbus
A typical day as a graduate will vary depending on which team you work in. I am currently working in the support engineering structures team, where we provide engineering resources to the in-service ARH and MRH fleet. Most days I work on developing structural repair substantiations, instructions and processing other documents to ensure we have holistically considered the design or technical change and are compliant with the rules and regulations enforced by DASA. As part of this role, I liaise with many areas of the business including other engineering teams, supply and procurement, technical writers, configuration management, aircraft maintenance engineers and Airbus Helicopters in Europe.
What is the most challenging aspect of your work?
Being able to accurately forecast an estimated delivery date for a repair or task is the most difficult aspect of my work, as often tasks involve input and review from multiple team members who may have conflicting priorities. These priorities can also change with time, so finding the balance between a conservative and accurate date for when the customer should expect the result is definitely a challenge.
What do you enjoy most about your work?
Perhaps the best thing about the in-service team is the exposure to the helicopters that you obtain. You learn a significant amount about the helicopters, as you are the first point of contact for technical or engineering advice. The nature of tasks is diverse, and there are plenty of training opportunities available as part of the graduate program. Another enjoyable aspect of the work is that you have direct and clear impact on the fleet serviceability. It is really satisfying knowing that the repair you have developed is contributing to the ongoing serviceability and safety of the helicopter and its crew.
What work/project are you most proud of to-date?
Perhaps my proudest work to date would have been my first repair I had released which was on the exhaust system of the ARH Tiger. The subsequent result allowed the part to be reused (without purchasing of additional expensive spares and a lengthy lead time) on the ARH helicopter. Seeing my first task progress through the workflow cycle, all the way to the point where the customer is sent the repair instructions was very fulfilling.
Can you describe the type of working environment/culture?
After moving interstate for the job, it is comforting to have a great bunch of people in the graduate program and also the wider Airbus community. The office is also very warm in nature and it's great to have a chat with someone you have or haven't met whilst waiting for your coffee to dispense.
Diversity & Inclusion
At Airbus Australia Pacific, we live Diversity as a core part of our identity: we have more than 130 nationalities and more than 20 languages are spoken within the company.
We value Inclusion. Inclusion is a working environment where all employees are respected and valued for their distinctive characteristics and have a sense of belonging to their team and their company. We believe that when employees bring their differences, it triggers more engagement, creativity and performance. Inclusion and Diversity are on the critical path to a truly innovative culture, enabling us to compete on our global stage.
Frequently Asked Questions
Additional Student Opportunities:
Airbus offers work experience opportunities for engineering students in their penultimate and final year of study. Opportunities are available annually and offered over a 6 month period (January – June and July – December). These positions are based in Brisbane and Richmond. The recruitment process is similar to that of the Graduate Program and conducted annually. Work experience opportunities will be advertised through our careers page and via our GradAustralia profile. We also offer the opportunity to engage in CEED, company-based training for students! For more information please visit https://www.corptech.com.au/